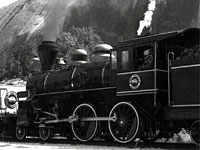 Aransas Pass was settled in the 1800s by the Karankawa Indians who found the location ideal for bow hunting and fishing from canoes. By the late 1800s, white settlers began to move in with hopes of turning the harbor into a deep-sea port, connected to San Antonio by railroad. After much trial and error, the railroad was finally finished in September of 1912. Aransas Pass was still a sleepy town, primarily used as a fishing harbor, but with the construction of the railroad, the town slowly began to grow.
Mary McCampbell, our street's namesake, sold a record 12,000 acres of land as a land lottery in the early 1900s to spur development. 6,000 land lottery tickets were sold at the bargain price of $100, which guaranteed buyers a lot of land and the chance to win other prizes.
Our home was one of the first buildings constructed during the development of Aransas Pass. It started out as a schoolhouse, then became a church, a tax office and was finally bought by the Clendening family who owned the general store. Not only historic for its age, our home was one of very few structures still standing after the Hurricanes of 1916 and 1919 tore through the city.
With improvements to Conn Harbor after World War 2 and a steady increase in shipping traffic, Aransas Pass grew to have the largest shrimping fleet on the gulf coast.